CAMP is open! REGISTER NOW!
Camp 2021
Located on beautiful Sweetheart Lake in Tolland, 5 minutes from downtown Stafford Springs, Camp Yankee Trails provides the quintessential day camp setting. Campers swim in natural waters, play in nature, and connect with one another in a completely unique way. Days are filled with traditional camp activities like archery, arts & crafts, Gaga, campfire cooking, and waterfront activities, including fishing, boating and daily swimming!
We are so excited to see camp resume for 2021. In 2020 we learned a lot and had no Positive COVID-19 cases traced back to Camp Indian Valley!  We are ready to do that again. Camp 2021 will be about unplugging and reconnecting to the environment and the in-person hands-on experiences. We will be running camp from 8:30 AM to 4:30 PM (see below for a sample schedule). Campers at Camp Indian Valley will have the opportunity to do some incredible activities this year. We want campers to have an immersive experience. Click here for more information on our specialty programs.
Campers that attend our one general one-week and two-week sessions will get a traditional camp experience. Campers will have the opportunity to for boating, frogging, swimming, river exploring, archery, arts and crafts, sports, and so many other fun activities. With Camp Yankee Trails located on Sweetheart Lake Campers will get an amazing opportunity to see some incredible wildlife.
We are planning on running our Leaders in Training (LIT) Program this summer. This program is designed for Teens 14-15 years old that want to learn more about camp and how to be a good leader. Applying for the program is not necessary! There are two 4-week sessions and one 2-week session. The 2-week session is by invitation only and will run at Camp Indian Valley in Ellington and does not coast anything for the camper to attend. The 4-week sessions coast $400 and campers must be able to attend at least three out of the four weeks of the program to enroll.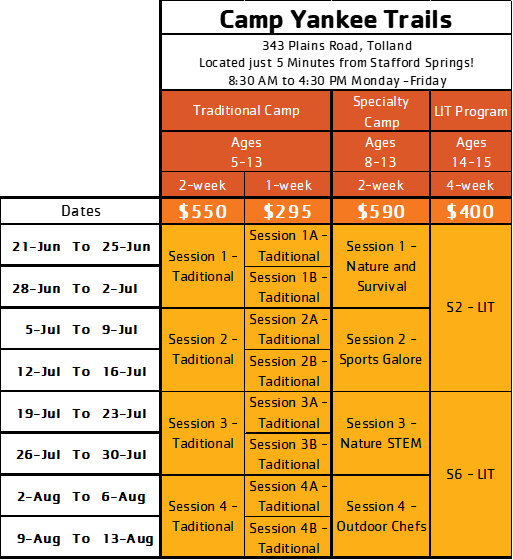 How are we handling safety at camp with COVID-19?
We are reducing how many campers can be in a group to help with social distancing.

We are following state and local guidelines to keep everyone as safe as possible.

Masks will be worn at all times when indoors except in the pool. Campers do not need to wear a mask outdoors.

Enhanced cleaning and sanitizing procedures will be followed.
Cohorting policies will be followed.
*We accept Care 4 Kids and offer financial assistance.
Location & Contact:
343 Plains Road
Tolland, Connecticut
Schedule:
Camp Day Schedule: 8:30am-4:30pm
Drop-off is between 8:30-9:00 AM Pick-up is between 4:00-4:30 PM. Campers should be dropped off and picked up at Camp Yankee Trails. There is no bussing for Camp Yankee Trails this summer.
Sample Schedule:
8:30-9:00 – Camper Drop off
9:00-9:30 – Daily Welcome
9:30-12:00 – Morning Activities
12:00-1:00 – Lunch and Group Time
1:00-3:30 – Afternoon Activities
3:30-4:00 – All Camp meeting/ Daily debrief
4:00-4:30 – Camper Pick up
Pricing per week: 
Traditional Camp (grades K-8)

1-week session: $295

2-week sessions: $550

Specialty Camps (grades 3-8)

2-week sessions only: $590
Refund Policy:
Our Refund Policy states that all deposits and one-time registration fees are non-refundable and non-transferable.
Cancelation prior to May 15th will be refunded less the $50 deposit. Cancellation between May 15th and May 31st are eligible for a 50% refund less the $50 deposit. Any refund requests made after May 31st will not be accepted, and all balances must be paid in full regardless if the child attends camp. All refund requests must be made in writing. If withdrawing due to a medical reason, a signed doctor's note must be presented and a full refund less the $50 deposit may be issued. All schedule changes must be made in writing at least one week prior to session start date.
Register: