CAMP IS OPEN! REGISTER NOW!
Camp 2021
Conveniently located at the Indian Valley YMCA in Ellington, Camp Indian Valley offers a beautiful outdoor play space and wooded wetland nature preserve, all with the safety and comfort that comes with a full-facility branch. Daily swim, archery, sports, Gaga, arts and crafts and more make this a perfect camp.
We are so excited to see camp resume for 2021. In 2020 we learned a lot and had no Positive COVID-19 cases traced back to Camp Indian Valley!  We are ready to do that again. Camp 2021 will be about unplugging and reconnecting to the environment and the in-person hands-on experiences. We will be running camp from 8:30 AM to 4:30 PM (see below for a sample schedule). Campers at Camp Indian Valley will have the opportunity to do some incredible activities this year. We want campers to have an immersive experience. Click here for more information on our specialty programs.
Campers that attend our Sports and Arts sessions will get a traditional camp experience. With a variety of sports activities from kick ball, soccer, basketball, to Disk Golf, Gaga, and so many others. Campers will have the opportunity to learn some of the basics of these activities while making new friends. Campers will also get to do some fun craft activities from nature art, painting, and bracelet making, to so many other fun arts and crafts activities. In the Sports and Arts sessions, campers will have the opportunity to swim daily in one of the two indoor pools. Camp Indian valley also has a low ropes course and an archery range!
We are planning on running our Leaders in Training (LIT) Program this summer. This program is designed for Teens 14-15 years old that want to learn more about camp and how to be a good leader. Applying for the program is not necessary! There are two 4-week sessions and one 2-week session. The 2-week session is by invitation only and does not coast anything for the camper to attend. The 4-week sessions coast $400 and campers must be able to attend at least three weeks of the program to enroll.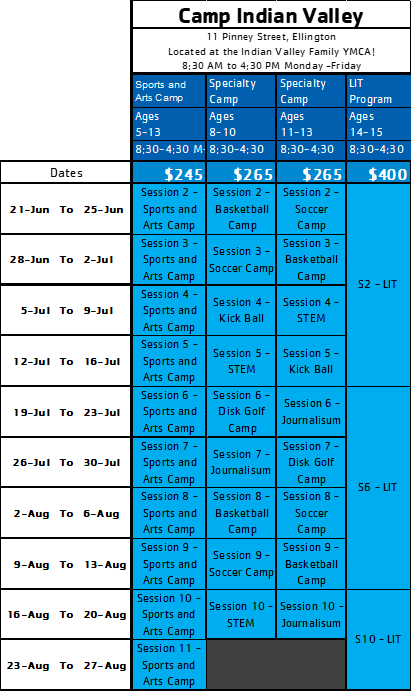 How are we handling safety at camp with COVID-19?
We are reducing how many campers can be in a group to help with social distancing.

We are following state and local guidelines to keep everyone as safe as possible.

Masks will be worn at all times when indoors except in the pool. Campers do not need to wear a mask outdoors.

Enhanced cleaning and sanitizing procedures will be followed.

Cohorting policies will be followed.
*We accept Care 4 Kids and offer financial assistance.
Also learn more about our regional day camp: 
Location & Contact:
Indian Valley YMCA
11 Pinney Street, Ellington
Camp Day Schedule: 8:30am-4:30pm
Drop-off is between 8:30-9:00 AM Pick-up is between 4:00-4:30 PM. Campers should be dropped off and picked up at the Indian Valley YMCA. There is no bussing for Camp Indian Valley.
Sample Schedule:
8:30-9:00 – Camper Drop off
9:00-9:30 – Daily Welcome
9:30-12:00 – Morning Activities
12:00-1:00 – Lunch and Group Time
1:00-3:30 – Afternoon Activities
3:30-4:00 – All Camp meeting/ Daily debrief
4:00-4:30 – Camper Pick up
Pricing per week: 
Sports and Arts Camp (Traditional Camp) (Ages 5-13)

Specialty Camps (Ages 8-10 and Ages 11-13)
Refund Policy:
Our Refund Policy states that all deposits and one-time registration fees are non-refundable and non-transferable.
Cancelation prior to May 15th will be refunded less the $50 deposit. Cancellation between May 15th and May 31st are eligible for a 50% refund less the $50 deposit. Any refund requests made after May 31st will not be accepted, and all balances must be paid in full regardless if the child attends camp. All refund requests must be made in writing. If withdrawing due to a medical reason, a signed doctor's note must be presented and a full refund less the $50 deposit may be issued. All schedule changes must be made in writing at least one week prior to session start date.
Specialty Camp Descriptions:
Basketball, Soccer, Disc Golf, and Kickball Camps:

 Learn the fundamentals of the sport and participating in scrimmage-style play.

STEM Camp: 

Campers will have opportunities to dive deeper into some science around engineering and rocketry.

Journalism Camp:

 Campers will learn the basics of writing articles and doing interviews. Campers will use different mediums such as photography, writing, and voice recording.
Register: