The Wilson-Gray YMCA Youth & Family Center and the Best Buy and The Clubhouse Network, offer the Best Buy Teen Tech Center. Our center, located at 444 Albany Avenue, includes technology and multimedia for music and video production; interactive programming; digital photography; graphic design; digital animation; and so much more.
The Wilson-Gray YMCA is excited to announce that the Best Buy Teen Teach center is open again and the Y has hired Timothy Green as our the  Program Director for Teen Tech Center. Timothy has experience in working with teenagers and their families in many platforms throughout his career in Hartford, Connecticut with nonprofit agencies including Our Piece of the Pie, The Village for Children and Families, Capitol Region Education Council. Click on this box for more information.
He is also a self-published author and an avid admirer of visual arts. Having grown up in and being a current Hartford resident Timothy truly believes in Hartford youth being the future leaders of our city and the world. He desires to assist them in discovering and developing their leadership and marketable skills through programs offered at The Teen Tech Center.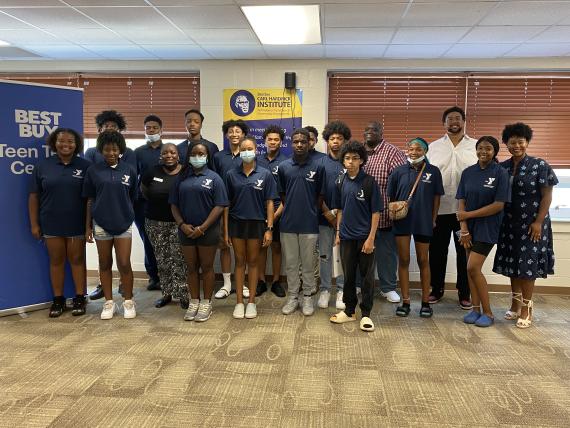 The Teen Tech Center's goal is to provide a fun, interactive learning space where teens explore technology to discover new interests, collaborate with one another, and prepare for the future. At the Centers, which already exist across the country, teens leverage technology to develop projects based on their own interests, such as creating art, producing music and animations; designing their own science simulations and mobile applications; writing and illustrating interactive poetry, stories and films; building kinetic sculptures and robotic constructions; and designing their own 3D worlds and games. In the process, youth become excited about learning and become fluent with new technologies, developing skills and experiences to help them succeed in their careers, contribute to their communities and lead outstanding lives.
Current research shows that adolescents learn most effectively when they are engaged in designing and creating projects rather than memorizing facts or learning isolated skills out of context. Leveraging The Clubhouse Network's proven education model, the Best Buy Teen Tech Centers foster a learner‐centered, informal educational approach that encourages participants to discover their interests and apply their own ideas. Through a combination of self‐guided learning and structured training, teens have access to resources, materials and tools to experiment, explore and create based on their own interests, and learn skills that will help them succeed in a wide array of professions in the modern workplace.
The Best Buy Teen Tech Center learning model is based on The Clubhouse Network program and is guided by four principles:
Learn by Design: Provide a combination of self-directed learning and structured workshops guided by staff and youth peer leaders, focused on hands-on, experiential activities.
Follow Your Interests: Provide opportunities for choice where teens care about what they are working on and are willing to work longer and harder while learning more in the process.
Build Community: Create a community with a culture of peer learning and equal opportunity, where youth work together with support and inspiration from peer leaders, mentors, and staff.
Respect & Trust: Create a stable environment where participants feel safe to experiment, explore and innovate and are given time and space to play out their ideas.
The Teen Tech Center will be furnished and decorated to provide a warm, inviting physical space that encourages creativity, self‐expression, and collaboration. Features include:
Computers in clusters and "pods" (not classroom style or lined up against the wall)
A table in a central location within the Teen Tech Center as a gathering place for youth to discuss, design, and work together
Ergonomic chairs (on wheels, to encourage collaboration)
Carpeting and color specs to create a warm, inviting environment
Studio lighting
Bookshelves & reading area
Exhibit space for youth work (display boards, shelves)
The Teen Tech Center is open to children ages 13-19.
Our hours:
Monday-Friday: 3:30 pm - 7:30 pm
Saturday: 10 am - 2 pm
Our location is the Wilson-Gray YMCA Youth & Family Center:
444 Albany Avenue
Hartford, Connecticut 06120