Schedule
We have a full schedule of offerings from seniors, from fitness classes to game days! Click the button for a full schedule, and read a description of our senior fitness classes below.
Senior Fitness Classes - Land
Senior Strength & Balance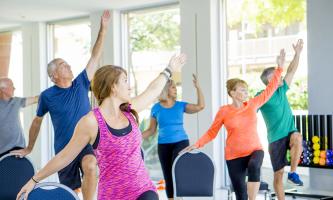 A perfect fit for the beginner or anyone looking to improve flexibility and strength, two factors that have been proven to help reduce falls and improve balance.
Senior Strength Circuit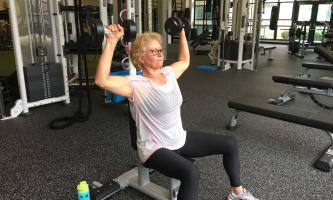 This drop-in class will focus on strength training for seniors using our pin-selected strength equipment in a group setting. You will be put through a total body workout by following our Express 10 workout and lead by our Health & Wellness staff.
Senior Cardio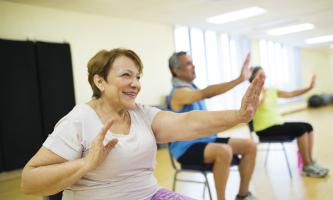 A cardio class for Active Older Adults or those brand new to fitness.  Lower cardio intensity options and no core floor work will raise heart rates for a total body workout, including cardio endurance. Beginner-Senior fitness level.
Gentle Yoga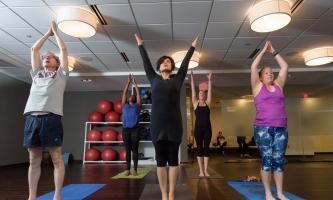 Perfect for all levels, this practice focuses the healing art Yoga on the student, while remaining deeply rooted of the vast treasury of the spirituality & wisdom within the yoga tradition.
Gentle Pilates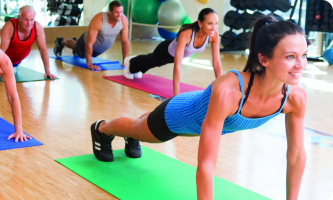 Great for all levels of fitness. A modified Pilates program designed for total body conditioning through flowing movement and breath.
Tai Chi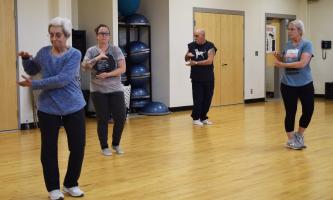 Tai chi is an ancient Chinese tradition that today is practiced as a graceful form of exercise. It involves a series of movements performed in a slow, focused manner and accompanied by deep breathing. Tai chi is a noncompetitive, self-paced system of gentle physical exercise and stretching. Tai chi is low impact and puts minimal stress on muscles and joints, making it generally safe for all ages and fitness levels. Often described as meditation in motion, tai chi promotes serenity through gentle, flowing movements.
Zumba® Gold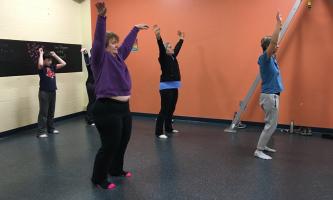 A lower impact Zumba® Class designed beginners and/or people who are not used to exercising.
Silver Sneakers Classic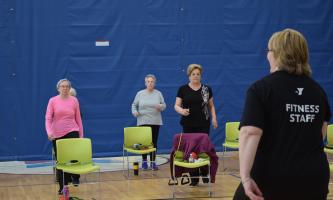 Focuses on strengthening muscles and increasing range of movement for daily life activities. Participants can use hand-held weights, elastic tubing with handles and a Silver Sneakers ball. Often a chair is used for seated exercises or standing support.
Silver Sneakers Circuit
-Circuit is designed to improve cardio fitness by alternating cardio and strength intervals. Our cardio segments will elevate your heart rate and improve coordination. Strength intervals will mix isolation strength with full body mobility work.
Senior Fitness Classes - Land
Senior Fitness Classes - Water Exercise
Shallow Water Fitness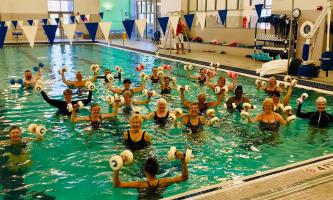 Wake up and start your day with a comprehensive workout! This class includes stretching, toning, and core work. Feel refreshed and energized to enjoy the rest of your day! This is a great class for ALL fitness Levels!
Deep Water Cardio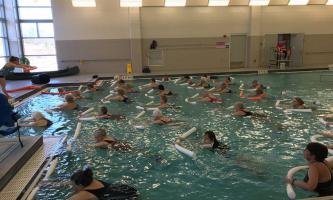 Take a load off you feet and join us in a deep water cardio class! Using a waist support, this class will release joint pressure and give you a great work out at the same time!
Aqua Arthritis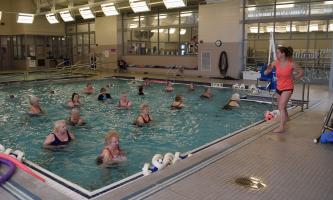 This class uses a gentle range-of motion workout to help people with arthritis improve joint flexibility and decrease pain or stiffness through the warmth, buoyancy and gentle resistance of an aquatic environment
Aquacise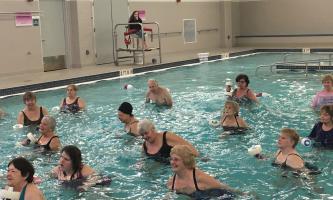 Come join us for lots of upbeat music, cardio exercise and shallow water stretching! This class combines water cardio workouts, strength training with weights and noodles and end the
class with some stretching and water yoga poses.
Poolates
Effective and challenging, Poolates® is soothing to the mind and spirit and gentler on joints and muscles than land-based exercises. Poolates® innovatively uses the buoyancy, resistance,
and gentle movement of water to strengthen muscles, enhance flexibility and posture, sharpen coordination and balance, and relax body and soul. Poolates® - the perfect marriage of the principles of Pilates.
Aqua Zumba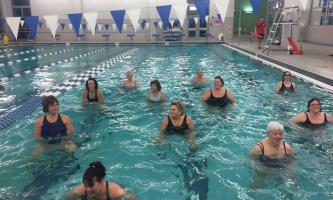 Join the pool party. This class blends everything into a safe, challenging, water-based exercise that is body toning and most of all exhilarating!
Senior Fitness Classes - Water Exercise