Schedule
Download a PDF of our Group Exercise Schedule, and scroll down for class descriptions on all of our strength training, cardio, cycle, dance exercise, mind-body, and senior fitness classes!
TAG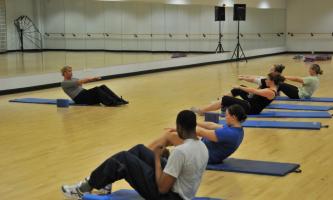 TAG focuses on toning nd strengthening the core down to the lower body, specifically isolating the Thigh Abdominal, Hips, and Glute muscle
groups.
Lift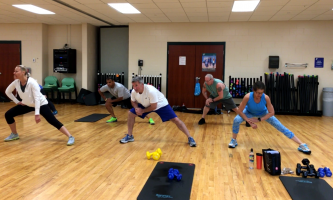 No to low impact, all-level, full-body workout using weights and body weight moves to strengthen, tighten, lengthen and tone your whole body. Modifiable to meet your personal needs and abilities.
Yoga, Qi Gong Yoga, Gentle Yoga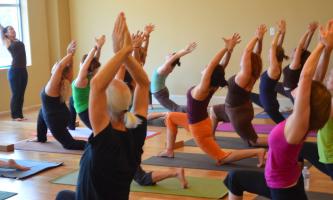 A multi-level class for both new and experienced students. Yoga will help cultivate self-awareness and stress reduction while exploring strength, flexibility and balance. Using breath work, alignment, postures, sequences and relaxation techniques, students will leave having learned tools to use for their lifelong well-being.
Zumba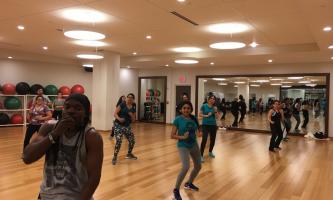 Zumba® is a fitness program inspired by Latin dance. Zumba® consists of Latin rhythms with cardiovascular exercise to create an aerobic routine that is fun and easy to follow. The name Zumba® is derived from a Columbian word meaning to move fast and have fun.
Group Cycle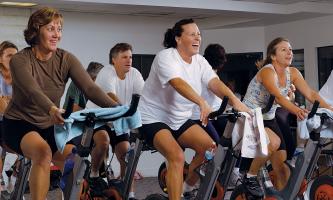 A high-energy class that simulates an actual ride targeting heart rate zone training, lower body strength, endurance, and lots of sweat. Appropriate music is played to help motivate you through the ride.
Silver Sneakers Classic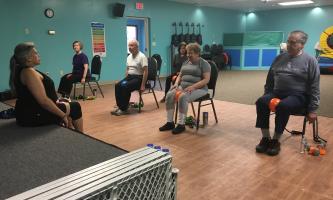 Silver Sneakers Classic focuses on strengthening muscles and increasing range of movement for daily life activities. Participants can use hand-held weights, elastic tubing with handles and a Silver Sneakers ball. Often a chair is used for seated exercises or standing support.
Silver Sneakers Circuit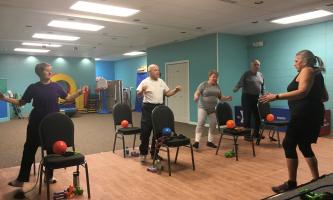 The Silver Sneakers Circuit workout offers standing, low-impact choreography alternated with standing upper-body strength work with hand-held weights, elastic tubing with handles and a Silver Sneakers ball. A chair is available for support.