Senior Fitness Classes
Senior Strength & Balance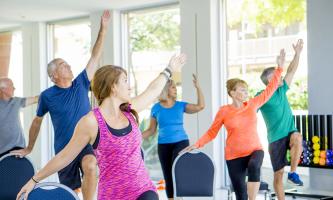 A perfect fit for the beginner or anyone looking to improve flexibility and strength, two factors that have been proven to help reduce falls and improve balance.
Senior Dance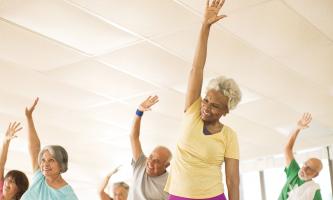 A fun way to enjoy getting exercise in! Learn routines to all types of music including: top 40, oldies, disco, country & line dances too. No dance experience necessary.
Silver Sneakers Classic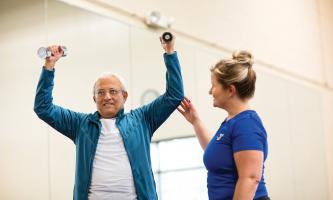 Silver Sneakers Classic focuses on strengthening muscles and increasing range of movement for daily life activities. Participants can use hand-held weights, elastic tubing with handles and a Silver Sneakers ball. Often a chair is used for seated exercises or standing support.
Silver Sneakers Circuit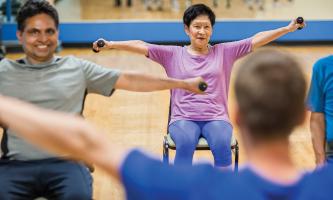 The Silver Sneakers Circuit workout offers standing, low-impact choreography alternated with standing upper-body strength work with hand-held weights, elastic tubing with handles and a Silver Sneakers ball. A chair is available for support.
Silver Sneakers Yoga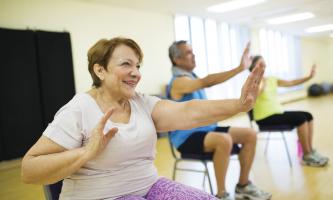 Silver Sneakers Yoga will move your whole body through a complete series of seated and standing yoga poses. Chair support is offered to safely perform a variety of seated and standing postures designed to increase flexibility, balance and range of movement.
Tai Chi/Chi Gong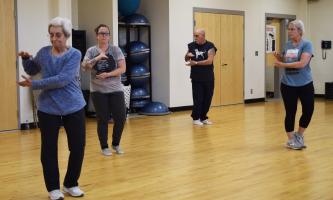 Tai Gong is an eclectic mix of Tai Chi and Qi Gong. A graceful form of exercise used for reducing stress and treatment of a variety of other health conditions. Often described as meditation in motion. This class promotes serenity through gentle flowing movements. It involves a series of movements performed in a slow, focused manner and accompanied by deep breathing.