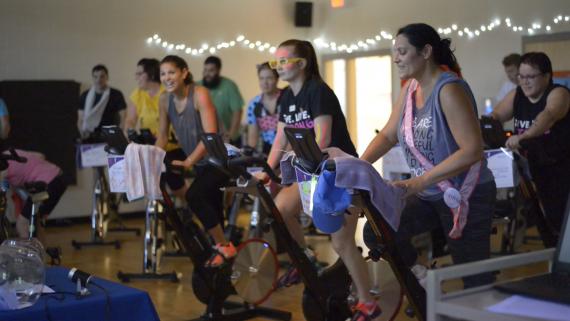 The spirit behind Hale YMCA's Road to Wellness spin event has always been to help our community members on their road to wellness -- whether that is following cancer treatment, an injury or -- now, in 2020 -- a pandemic.
This year has been a difficult one for our community as it navigates the challenges of the pandemic. So, after a six-month delay, Road to Wellness has been rescheduled for Sunday, October 25th and will benefit YMCA programs aimed at helping Northeastern CT get through COVID-19 together and back on our "Road to Wellness."
Even during these difficult times, Hale YMCA continues to meet the needs of our community with programs like life-saving blood drives, food drives to feed local families in need and hybrid virtual-learning support as families go back to a very different school year than ever before. Did you know that our YMCA has transformed into a learning center to give local children a safe place to attend virtual classes and get social enrichment all under the supervision of YMCA staff? It is innovative programs like this that are helping our community get back on our path to wellness.
Join us on October 25th for a two-hour outdoor spin event at the Putnam Farmer's Market Pavilion with the Y's own Jenn and Earl. The pavilion will give us room to spread out, have fun and raise money for this important cause. All proceeds stay within our local community, and your participation will ensure that your neighbors, friends, and families all have access to Y programs regardless of their financial or life circumstances.