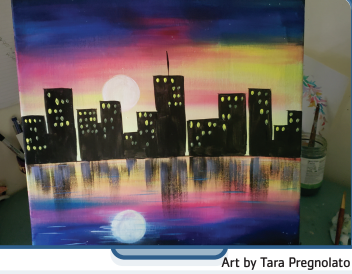 Our date will be announced soon, stay tuned!
Join us for a virtual family friendly event and create your own version of "Hot In The City" led by artist Tara Pregnolato. This event will help raise money for the East Hartford YMCA Annual Campaign which provides scholarships for summer camp, childcare, and other youth programs.
Tickets are $30 and include everything you need for an evening of fun (paint kit includes canvas, watercolor palette, and two paint brushes). Pickup for kits will be in the parking lot at the East Hartford YMCA, or we can mail it to you! We will send a Zoom link 2 days before the event to participate!
Call 860-289-6612 for questions. Sponsorship opportunities available, click here to learn more.