The Y is made up of diverse people working side by side to strengthen our communities. Together, we work to ensure everyone -- of any income, faith, ability, sex, sexual orientation, gender identity or expression, race, ethnicity, national origin, cultural background or other unique personal characteristics -- has the opportunity to live life to its fullest. We share the values of caring, honesty, respect and responsibility, which are the foundation for everything we do.

Here are some highlights from across the Greater Hartford Y from the Winter of 2019/2020. Click the newsletter cover page to view the entire PDF.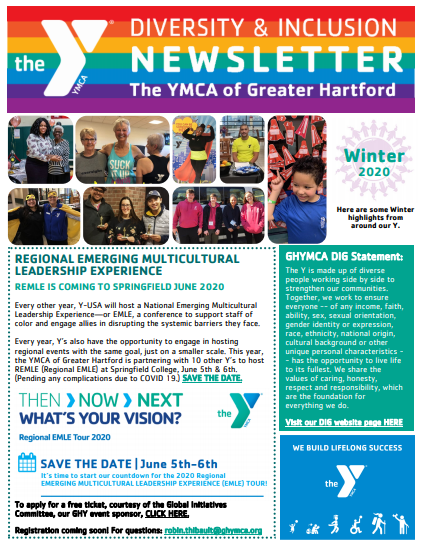 Y-USA has made a number of online courses free until at least December, 2020. A handful are excellent Diversity & Inclusion courses.
Click here for a list of free online DIG courses for Y staff and volunteers.
If you don't have an account on LINK yet, you can create one here: https://ymca.link.net (For Y staff and volunteers)
The YMCA of Greater Hartford recognizes that being an equal opportunity employer makes us stronger. YMCA staff and volunteers are committed to celebrating diversity, practicing inclusion, and embracing a global mindset, and we are dedicated to the equity of our team. 

We hire staff of all backgrounds and abilities, and we provide employees with training and leadership development opportunities.