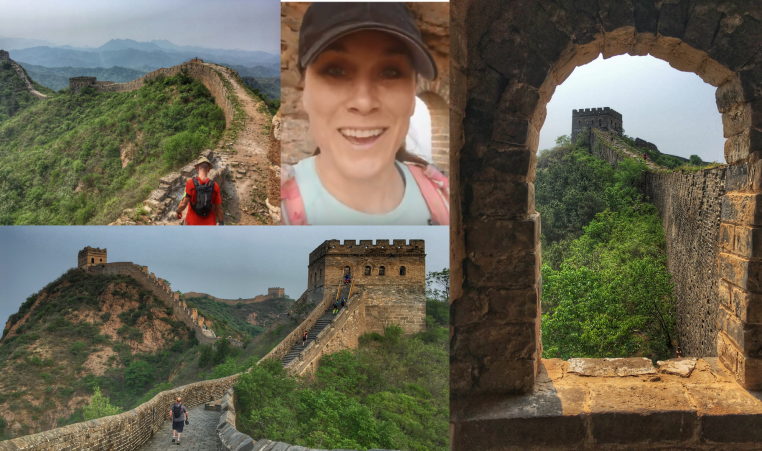 "This is going to hurt. Come to terms with that phrase and be comfortable with that fact," are the opening lines of the Conquer The Wall Marathon's runners handbook. With that advice in mind, at 6am on May 11, 2019, I found myself two hours northeast of Beijing, China at the base of the Jinshanling and Gubeikou sections of The Great Wall, ready to run an epic 26.2 miles.
"Having traveled to China and the Mutianyu section of the wall in 2012, I was prepared for the realities of what 20,000 stairs look like on The Great Wall. When the wall was built—over hundred of years, many, many, centuries ago—stairs were deliberately designed at varying heights to deter invaders that might try to make it up the wall. Sometimes this manifests in stairs that are only a couple inches high, while others approach two feet in height, and still other sections are just sheer, smooth 35 degree inclines.
"I had executed an 11-week training plan and have two full marathons and one ultra-marathon (33.4 miles) under my belt. I had spent many hours at the Hartford Convention Center logging stair workouts, and many hours running miles on the Farmington Bike Path. I felt confident in my preparation.
"The Conquer The Wall Marathon course has terrain that is steep, crumbling, and relentless. The 12-mile run on Gubeikou is "unrestored"—the trail more resembled a crumbling dirt and rock path, while the 12-mile run on Jinshanling was "restored" with stone and pavers. (The last two miles were on the road to/from the park entrance.)
"Out of the roughly 70 runners who started the full marathon—a half, 10k, and 5k are run concurrently—20 officially finished. Unfortunately, I was not one of those 20. At mile 23, when I was 8:45 into the race around the 21st tower on the Jinshanling section of the wall, I came upon an Australian runner suffering a medical emergency. I stopped to assist with his medical care. It took doctors over an hour to get up the mountain and onto the wall. By the time they arrived, I had missed the final checkpoint by about 15 minutes. My race was over. It was a bittersweet ending to an otherwise epic event.
"I managed to condense 10 hours of video footage into an eight-minute race recap. Check out my YouTube video below!"