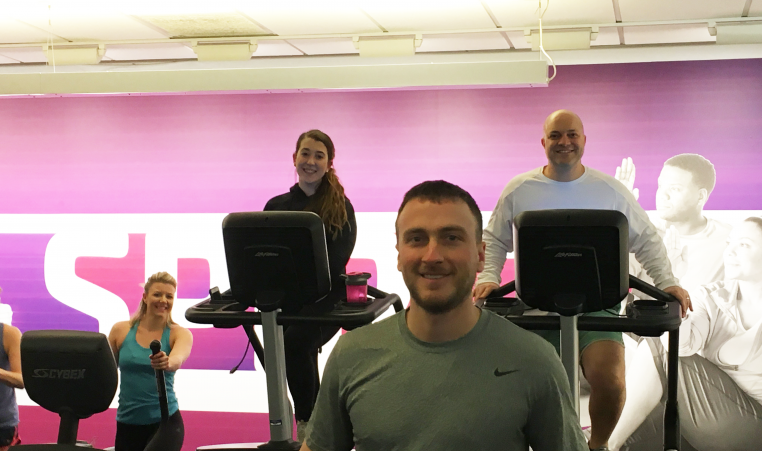 Our next #HumansoftheY are a great example of corporate wellness! A group from SoVita Chiropractic Center finds the time every day to walk over from their clinic on Lewis Street to the Downtown Hartford YMCA, and they work out together! Talk about teamwork! Dr. Jerry, Kelsey, Matt and are the core workout crew, and are sometimes joined by their practice's enthusiastic founder, Dr. Karlos Boghosian. And they know that workouts are always #BetterTogether 
Karlos: The name SoVita comes from Sophos in Greek, meaning wisdom, and vita in Latin, meaning vitality, so because we know we want to impart wisdom to our people and help them to live their lives and express their life to their full potential.
Kelsey: In our office we do a lot of education, and that's the basis of our entire vision and our whole purpose. So when patients come in they are fully educated on everything about themselves, chiropractic, and even how to be healthy and living a better life. Having that as the basis, we just are exactly what we are talking about. We work really long hours in this office—Monday, Wednesday, Friday we are here 7am to 7pm—we are really dedicated to the office and what we do. But we get a break between 1 and 3:30, so that's the time that we go to the Y together. And that's time for us to just have a little fun, break up the day, get some energy out, and then keep going the second half of the day. It recharges us.
Matt: I know if I go to the Y and work out, I'll have more energy after. So if I'm feeling down, and it's lunch time and I don't really want to go, Dr. Jerry will say, "Let's go!" And then after lunch I have more energy for the rest of the day. So I have to remember that and tell myself that I will have more energy.
Jerry: At the Y, there is that community feel. So you've got your little group of Travelers people, you've got your little group of the attorneys general's office, you've got your little group of banking, young adults at night, and others. And then the classes, they make little groups too. I have a healthy kind of thing going with some people, like, "are you going to be in class? Don't miss the class!" "I saw your wife in the class, she was there, why weren't you?" And that's great, it's healthy with exercise, it will encourage you to do a little more.
Kelsey: You should see Jerry [at the Downtown Y]. He's like the mayor! He knows everybody there. 
Karlos: One of our more well-known patients has been receiving care in our office for a long time. I was having a conversation with him, and he said that the awesome thing about the Y is that you can go work out there and see people from all walks of life, and once you're there, it doesn't matter. It doesn't matter where you're from—a general manager, a sales manager, a janitor, it doesn't matter—we all get together and connect on an even level. And he says, "that's what you have in this office, that's why I love coming here." If you know our office, we've done the same thing, we just want to stick into the community and culture and just have them inform each other. We all have special gifts and talents and we recognize that we can share that with each other.