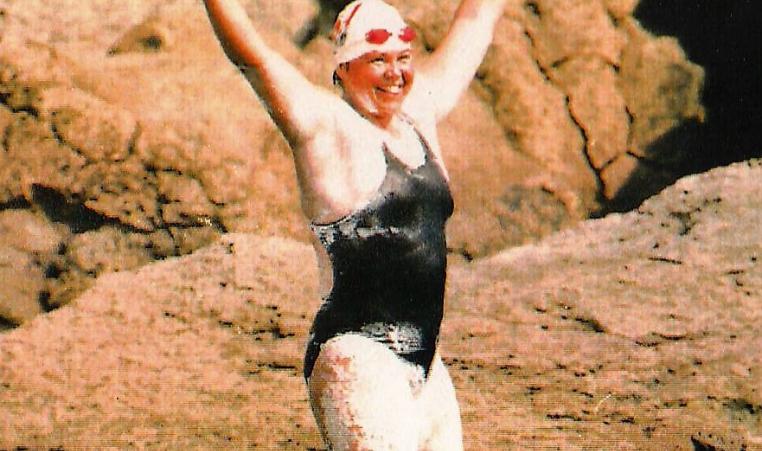 East Hartford YMCA's LEHY swimming team has a number of award-winning and inspiring coaches, and today's #HumansoftheY features Marcy MacDonald, who was inducted into the International Swimming Hall of Fame in May 2019 in the  Open Water Swimmer division. Marcy started dreaming of crossing the English Channel at just 12 years old, and she has now accomplished that dream a whopping 16 times! Hear from Marcy about her journey in professional swimming and as a coach for our community's youth, and then visit the International Swimming Hall of Fame's website to learn more about her many accomplishments.
"In 1993 I had just started my solo podiatric practice, started to coach for (the East Hartford YMCA's swim team) LEHY, and started my preparing for my first English Channel crossing in 1994.
"LEHY has been fun and challenging, but I've had wonderful support from Ed and Kaeley Steinnagel and all of our LEHY coaching staff. We have been consistent with our program, and our success for our LEHY family speaks for itself. I am proud of all our swimmers, and I think most would agree LEHY has helped them be stronger adults.
"Both swimming and coaching have made me a better swimmer, but mostly I believe a better person. I truly try to DO my best and BE my best in and out of the water. I've learned a lot about myself through the past 25 years, and I credit much of my success to the YMCA values. When I started coaching, it was all about the swimming, but as I matured into a Coach and into an Open Water Swimmer, I realized how special the values were in my life and I've tried to instill them into my coaching style. Respecting hard work never hurt anyone.
"Not many events in one's life can mold someone, but through the years I know my first and subsequent Channel crossings made me realize I am a goal- and dream-oriented person, someone who pushes through to their next limit of discomfort. The real accomplishment that moved me toward the International Swimming Hall of Fame was in 2001, when I completed my first double crossing of the English Channel. After swimming for over 21 hours, there wasn't much that I could justify in my mind to stop and get out of the water.
"I have and will always try to softly push our young Y swimmers (and other people) in the direction to challenge themselves, reminding them it is their responsibility to train and learn lessons to their best ability, respect their competition and always enjoy the hard work; most of the time, with proper preparation, success follows. Life truly is too short not to try."
For more on Marcy's swimming journey, see her honoree page on the International Swimming Hall of Fame's website.