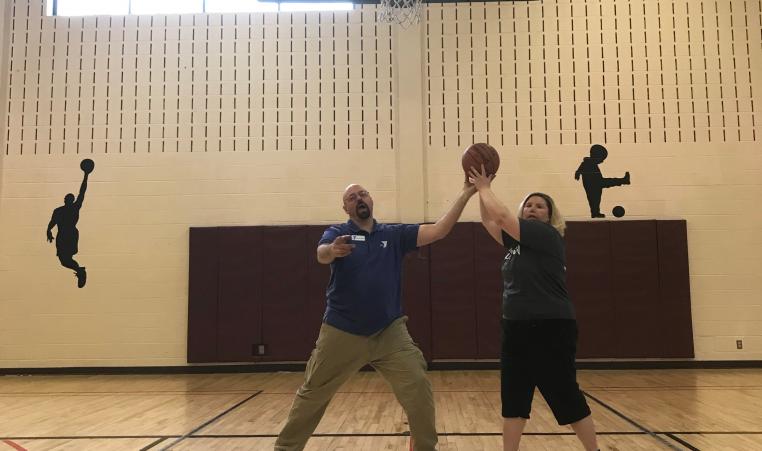 Our next #HumansoftheY story comes from an employee who has a VERY unique connection to Y history and the creation of basketball. Thanks to Kristin Naismith from the Farmington Valley YMCA for sharing!

"I was born with a YMCA legacy, but I began my own Y journey at the Indian Valley Family YMCA on 9/23/2010. I heard about the Y from a friend who would come home every day telling me I need to check it out and become a member. Finally I did, and from that day forward I have become addicted. 

"Indian Valley took me in when I was a very lost, quiet, self- conscious young woman and worked with me for years to help me accomplish my personal and professional goals. I learned to dive in the pool, and I lost so much weight and grew self-confidence enough that I stopped wearing male swim shorts and bulky t-shirts in the pool. They also taught me very valuable life lessons. I received the very first "Member of the Year Award" and I was given the opportunity to speak at many dinners while having my biggest rock, my support system, Dan, a lifeguard, by my side. 

"The Y offered me a part-time position in Property Maintenance in 2014 and I couldn't be more proud to finally be a staff member of a community that has helped me so much. I quickly learned the role of Membership Service Representative and split my time between the 2 positions. I was then asked to be Camp's Admin Assistant. In August 2017, I began a whole new Y journey at the Farmington Valley YMCA as Program Registrar, Volunteer Coordinator and Membership Assistant. 

"It was when I began at the Farmington Valley YMCA that I started being asked about my Naismith heritage and my connections with Dr. James Naismith. I am his great- great- great-niece! If you don't know, Dr. James Naismith invented the game of basketball at the Springfield College YMCA Professional Studies Program in 1893. The first game of basketball was played with a soccer ball, and two peach baskets were used as goals. He changed the peach baskets for open hoop nets and soon wrote 13 official rules to the game. 

"I never took up playing basketball, but I am an avid fan of the UConn Huskies basketball team, and am proud to be a Naismith. 

"Pictured with me, is one of my biggest fans at Farmington Valley, Charlie Zoef, our branch Property Director. He is honored to share my connection to Dr. James Naismith to everyone who walks through our Y and I am thankful he will carry on my Naismith legacy for many years to come. 

"I am honored to be this month's Human of the Y edition and I hope somehow I can make such a huge impact to the YMCA as my relative, Dr. James Naismith did. Special thanks to Indian Valley Family Y and Farmington Valley Family Y."