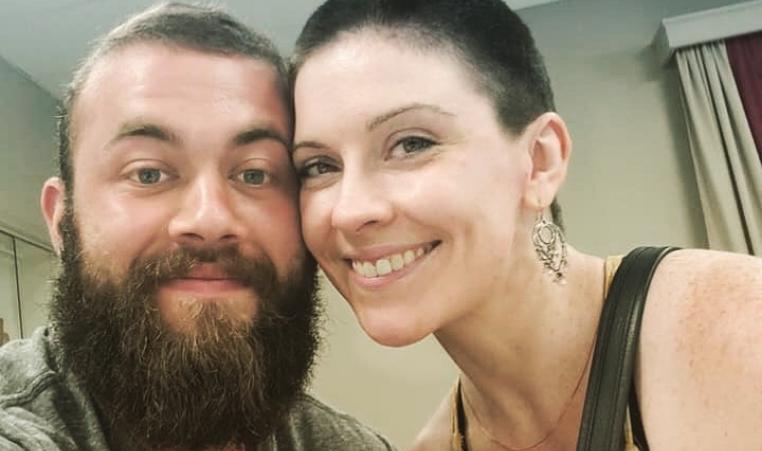 "I became involved with St. Baldrick's 2 years ago. I did not raise enough money to hit my fundraising goal that year, but I did donate my ponytail.
"This year I was able to surpass my goal, which was satisfying and terrifying, as I was now confronted with shaving my head, as promised. The head shaving was done at the St. Baldrick's event in Manchester: the barbers line up at the front of the room, and people take turns getting buzzed while a band plays. The energy was high, and as my time to buzz was getting closer, I was getting jittery. A lady named Megan approached me, and talked to me about her shaving experience. She loved it, showed me pictures, and gave me tips. She was so encouraging and really soothed my nerves. My boyfriend Mike (who works at the Y) was with me, and he was so excited and supportive of me getting buzzed. His unwavering confidence really lifted me up, and made me feel ready and brave.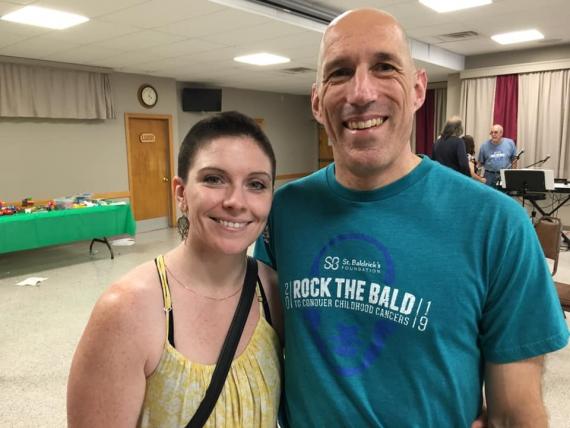 "When it was my turn to get buzzed (my kids didn't care about watching, they were busy eating snacks in the kids area), I felt an incredible wave of calm hit me. I kept thinking about my cousin Shawn, who passed away from cancer when he was 16. I really felt like he was there with me. I thought about all the kids that have to lose their hair and go through so much worse. I thought about all the women with cancer who lose their hair, and the pressure society puts on women on how we should look. And I thought about how amazing and powerful Charlize Theron looked in "Mad Max" with her buzzcut.
"In the end, I raised almost $4,000 for this wonderful cause, and was incredibly liberated and humbled during the process. It seems like such a huge deal, a woman getting a buzzcut. But ultimately, it's….just…hair.
"If anyone would like to get involved in this event for next year, please feel free to reach out to me, or Phil Miller (event champion!). Last year my boyfriend donated his beard. You can join a team and not shave. It's a lot of fun, and it's for the best cause. For your viewing pleasure, a picture of me 30 seconds after The Buzz!"