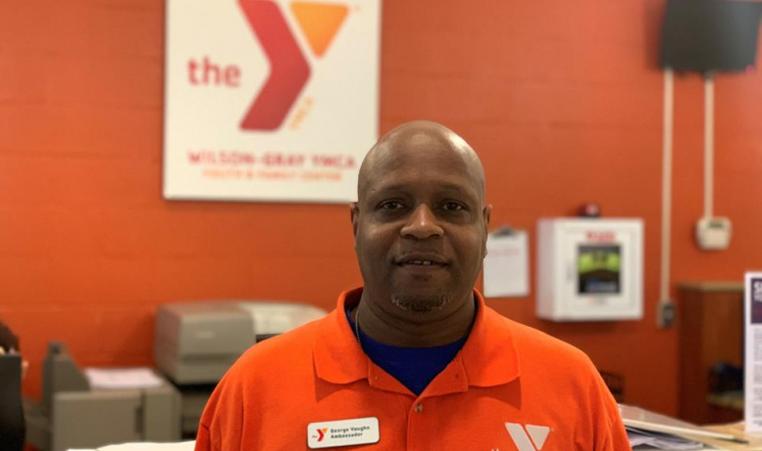 Staff member George from the Wilson-Gray YMCA Youth and Family Center served our country, and on this Veteran's Day we wanted to honor his #HumansoftheY story. Thank you George for all you have done for our country, and the YMCA.
"I went to basic training on September 4, 1986 at Ft. Sill, Oklahoma as a 13 Bravo Cannon Crewmen in Field Artillery, where I received High Basic Rifleman Trophy. After graduating I received orders to go to Frankfurt, Germany to the 21st Replacement Center, where they place soldiers in different units. I was sent to a town called Bad Kissingen, Germany, Daley Barracks, where I was placed in the 11th Armored Calvary Regiment, Eaglehorse Squadron, Blackhorse Regiment, Howbtry, from January 1987 - October 1989.
"Our unit motto was "ALLONS," which means LET'S GO In French. Our main duty was to guard and patrol the East-West German border. We also spent months at a time at different training areas around Germany, including Grafenwaher, Hoenfels, Wildflicken. At those places, we trained in Field Artillery with the M109 Self Propelled Howitzer.
"I also was selected to be in our Special Weapons Unit, learning about nuclear projectiles for the M109 Howitzer. During that time I received 2 Army Achievement Medals and a Good Conduct Medal and my Border Certificate. I also traveled around Germany and other places Europe, like France, Italy and Spain.
"After that in October 1989 I was ordered to leave Germany and go to Ft.Bliss, Texas. Right after I left, in November 1989, the Berlin Wall was torn down, which meant the liberation of East and West Germany. I wish I was there to see it since I was there beforehand. Then in 1991 my former Unit was sent To Kuwait. After a few months at Ft.Bliss I came home to Connecticut, where I joined the Army Reserves at the 76 division in East Windsor. I worked in supply, and then I finished my service obligation in September 1994 after 8 years. I miss my time in the US Army and all the brothers and sisters that I served with.
"Now, I am an ambassador at the Wilson Gray YMCA, where I have been since 2015. A few of my duties are to meet and greet members and others that come into the Y; make sure the members know where they are supposed to be; and help out the staff and members if they have a question or situation in which they need assistance. Since my employment with the Wilson Gray YMCA, I have received the Employee of the Month, Mr. Personality, and Mr. Dependable awards. I love being around the members. We can learn a lot from each other, and it is helping our community."