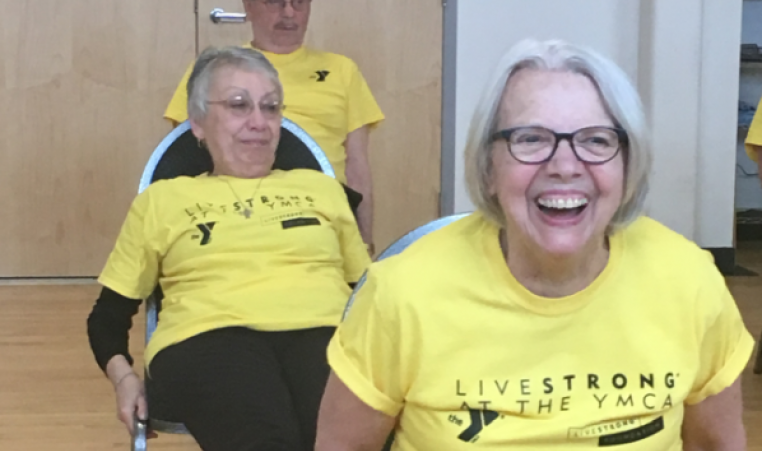 We are SO impressed with the Hale YMCA Youth & Family Center, which raised a whopping $22,000 at their Road to Wellness event! That is MORE THAN DOUBLE the goal, and will help people like Elina:
"LIVESTRONG is exactly what it says it is: It helps you to live strong when you are at your weakest and most vulnerable.
"The Hale YMCA opened just when I was diagnosed with cancer. The nurse at my doctor's office recommended I check out LIVESTRONG, which I'd never heard of.
"First we met the other people in our group. It felt good to be among people who understood what you were going through (you don't know what it's like to receive a diagnosis of cancer unless you've been there)-we encouraged and related to each other. Then we performed activities that provided a baseline for our capabilities. That way we could see measurable improvement as time went on. Each time we met, our vitals were taken to be sure we were able to participate.
"One of the greatest benefits of LIVESTRONG is that it keeps you going when you really don't feel like keeping going. There would be times that I would have to force myself to leave the house and come to the Y to climb onto a bike for the cardiac portion of my routine. I preferred working out with free weights rather than the machines, so I'd do that to increase my body strength. Trainers who had received special instruction specifically for LIVESTRONG taught us about these things and were always available for us as we worked out.
"After working out in the Wellness Center we'd always do another activity such as Zumba, art therapy, water fitness, and have informative meetings with trained personnel on things such as balance. By doing this, we'd learn about other activities that the Y offered that we could do. For me, the meeting on balance was especially helpful since I have lost some of my balance capabilities.
"Since I was diagnosed with cancer 3 years ago, I continue to come to the Y even though I have completed the LIVESTRONG program. Sometimes I participate with the new LIVESTRONG groups and other times I get involved in special programs. Exercising helps me feel more optimistic and happy."
To learn more about our LIVESTRONG program, click here.