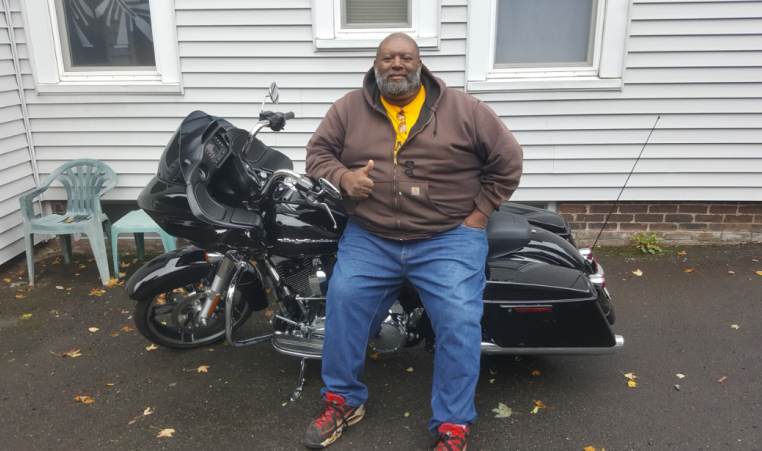 Membership Services Representative Sue was so inspired by one of the Wheeler Y's members, Dwight, that she wrote a Humans of the Y story about him!
"Dwight has been a member at the Wheeler Regional YMCA for the past couple of years. He initially joined us because he wanted to exercise in the pool following his recovery from surgery. He had hoped going into the water and exercising would make him feel better, be more mobile, lose some weight and have more energy. He started out slowly in our multi-purpose pool and created his own routine moving between the Multi-purpose Pool, jacuzzi, and steam room. He began coming about 5 times per week and walking in the water, progressing to 20 minutes and then overtime building up to 45 minutes!
"In the beginning, Dwight knew just 2 members here, who happened to be brothers. It wasn't long though until people noticed his friendly manner and positive energy, and soon Dwight had become a friend to many! He routinely visited with members who were coming and going during check-out, holding doors, sharing greetings, smiles and passing along motivating words of encouragement!
"Last Spring, when Dwight decided to relocate out of state, and we were certainly sad to say good-bye. He explained that while he was away, although he looked for another pool, he found nothing like the facilities and the community we have here at the Wheeler Y.
"To our delight, last September, we were thrilled to see Dwight walk back through our doors with that great big smile and his 'can-do' attitude, eager to get back in the water again. This time, once Dwight had built up his endurance and strength, the lifeguards, who had watched Dwight's commitment and progress and who Dwight acknowledges having always been very helpful to him, offered him a suggestion when he mentioned his desire to advance his workout. The suggestion was that he try to include some swimming strokes with his regiment. He began by using the foam floatation belt in the water and swimming with it for about 10 minutes. He began to feel stronger and stronger and it was not too long afterwards that he proudly completed 6 laps without the belt! Through a combination of strengthening exercises in the Multi-purpose Pool working on specific muscles to gain more strength and swimming laps in the lap pool, Dwight's journey continued. He shares that he now is up to completing 16 laps at a time!
"We are thrilled to hear about Dwight's success and just like Dwight watches out for other members, they too are watching out for him. 
"And Dwight's positive contributions extend past our walls. Dwight has spent time serving in the Navy in the late 1970s, and since 2005 he has been a member of the Buffalo Soldier Group of Hartford, which is part of the National Association of Buffalo Soldiers/Troopers Motorcycle Club (NABSTMC). He explained that the Buffalo Soldiers originally were members of the 10th Cavalry Regiment of the United States in September 21, 1866, at Forts Leavenworth, Kansas. He is involved in many aspects of the group's community service, including their Annual Ride for Sickle Cell Anemia Research at UConn Health. Dwight has ridden in 5 rides and is already excited for this year's event. He also has plans to ride his motorcycle down to the NABSTMC National Conference in Jacksonville, Florida later this year.
"Dwight we are inspired by you, we thank you for all you do and we are happy to have you as part of our Wheeler YMCA family!"