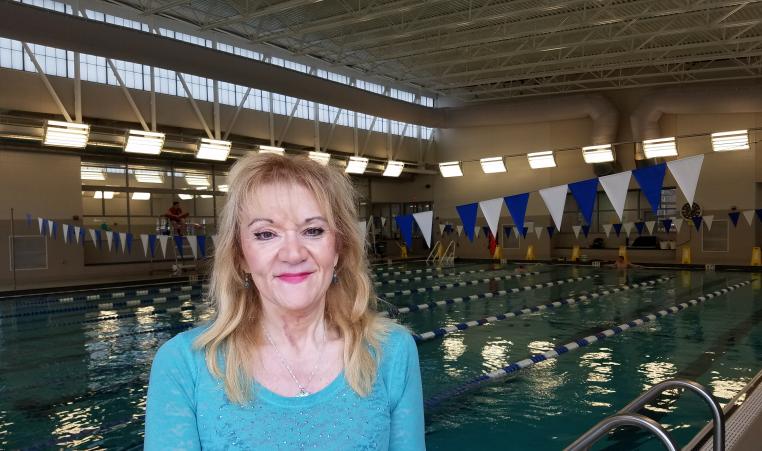 Our next #HumansoftheY story comes from Deb, who has been a member of the Hale YMCA Youth and Family Center since the day it opened! Over the past 2.5 years, Deb has lost 100 pounds, and now spends 5 days a week swimming. She really is an inspiration for anyone afraid to get wellness journey started, and is an embodiment of our core pillar of #HeatlhyLiving!
"I was living in Florida and I was looking to move back to this area. I saw on the internet that the Hale YMCA Youth and Family Center was being built – this was back in 2015 – and I remember saying to my husband, 'Let's move to Connecticut near the Y. I just have a good feeling about the Y!' So we did! 
"I was 100 pounds heavier at the time and in a lot of pain. I had really bad arthritis, I could barely move. I went to a neurologist that said 'Just get yourself in the water! Do everything in the water!' So we ended up moving to Dayville, and a year after that, the Y opened up. I was here the day the Y opened and I've been here ever since. 
"This Y has actually been a lifesaver for me. I don't think I would be in the health that I'm in right now if it wasn't for this Y. This Y is special! It's the people – they are very, very special. From the cleaning crew to the instructors to the lifeguards, everyone is just wonderful. Everybody is just so helpful and accommodating! 
The biggest motivator for me was probably Cindy Nowlan. She really got me going! She was doing a lot of water classes then and she pushed me – 'You can do better! You can do it!' And so she really got me motivated.
"To make a long story short, I used Weight Watchers in conjunction with coming and swimming laps and taking aqua fitness classes and I lost the weight and I feel fantastic. I'm a big promoter of swimming to lose weight, because you can lose weight without hurting yourself. And you have no excuse! Anyone can get in the water. As long as you can get in water, you can swim and it's the best thing for you.
"My life has been saved because of the Y! I come here 5 days a week and gotten to know everybody, it's like a family. My husband comes here too. He's had a lot of health issues, so he spends time weight training and he loves it. My son, he's my baby, recently graduated from college and got into the National Guard – I dragged him here and he found the same love that I have for the water. He lets off steam in the water and has lost some weight too. He actually got a job here as a lifeguard! 
"The Y has really affected my family in a very, very positive way. I can't say enough good things about it!"
Hear more from Deb here: