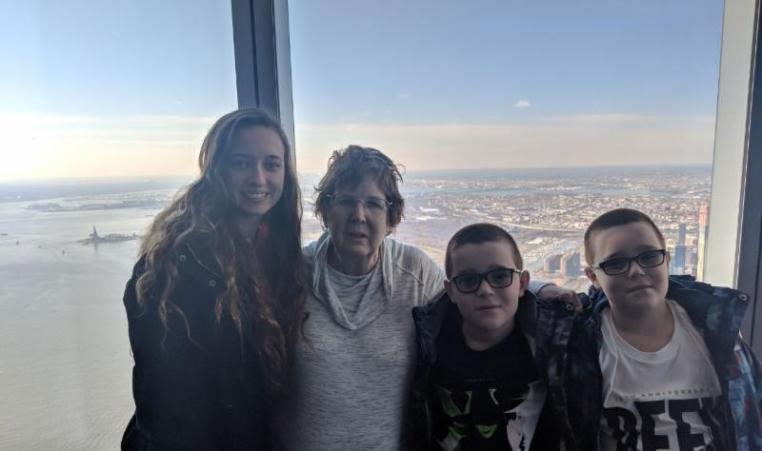 Eleven years ago I went for a routine mammogram and it was discovered that I had a severe case of metastatic breast cancer. The uncertainty of what the future held and the physical and emotional devastation of receiving this news consumed my thoughts. I was now faced with the daunting task of fighting for my life. After undergoing surgery, a severe dose of chemotherapy and radiation, my thoughts returned to wellness. I went to inquire about the LiveSTRONG Program at the Farmington Valley YMCA. This is when I met Jackie Voelker, Health and Wellness Director. Jackie explained the program to me and welcomed me to the Y. I loved it! The classes consisted of exercising our muscles and doing relaxation activities. While we did the exercises Jackie always shared kind words of wisdom. The participants in the class were amazing and we began to share our stories and learn from one another. I was so happy because it seemed like I had found a place that would offer me fitness and a road back to health. Unfortunately, my happiness did not last long.
As the LiveSTRONG classes progressed, I found it more and more difficult to keep up with the class. I also was experiencing severe fatigue and weakness at home. I spoke to Jackie and we both agreed that I would put my Y classes on hold until I visited my physician. My husband Dennis brought me to the hospital emergency room and I was shocked to learn that the chemotherapy I received for the cancer destroyed the left side of my heart and that I was experiencing congestive heart failure. I will never forget how kind Jackie was when I called her and told her I would not be able to return to complete the LiveSTRONG Program. This was the darkest time of my life. The next few years were full of tests, medications, surgeries and an implantation of a device that worked for a short term. My physicians finally came to the conclusion that my only hope for survival was a heart transplant. And in December 2016, I became the recipient of a new heart.
After my recovery, I once again returned to the FV YMCA. I was so fortunate to be greeted by Matt Doak, Membership Sales and Service Coordinator. Matt was kind and patient with me as I explained my story. He was excited that I was able to return to work out at the Y and each time I came in he made a special effort to greet me and ask me about my progress. Matt's warmth set an example for all the staff at the Y and it was not long before everyone would greet me by my first name! The staff at the front desk would smile and make me feel at home. As I began to establish a routine, the fitness staff answered questions and greeted me each time I in. The Farmington Valley Y quickly became my second home.
Although this was a fun experience, I wanted more from my workouts. Matt suggested that I work with a trainer. I soon made an appointment to meet with Irene Kahn. I was a little nervous at first, but as soon as I met her, I knew we would be a perfect fit. Irene developed a set of exercises that would slowly allow my body to adapt to physical activity. Irene employed kindness and sense of humor while demonstrating various weights, machines and exercise techniques. Slowly, I developed something I had never had in my life before: a love for fitness!
When the Greater Hartford Slimdown was advertised I consulted with Irene, Jackie and Matt. They all encouraged me to join the Slimdown, and I did! Irene and I worked together so I could properly do all the exercises. It gave me such joy to know I was able to do the same exercises that everyone in the Slimdown was doing! Each time I would meet with Irene I would ask her, "Am I really keeping up with the other participants in the program?" And each time Irene would assure me that, yes, I was able to do what everyone else was doing! By the end of the program I lost 13 pounds, and now I have a stronger body core and muscles. I also developed a comfort level and ability to do exercises, work with weights and utilize the exercise equipment.
Recently, I received a lab report from my doctors. All my tests came back normal and the doctors were so pleased to say I was healthy! They were happy and impressed that I was participating in such a fine fitness program! What a miraculous change it is to go from heart monitors and tests and being sequestered in a cardiac ICU room to starting my day doing a rigorous exercise regime! I would like to thank everyone at the Y for helping me achieve those great results. I especially would like to thank Irene Kahn, who gave me the strength and confidence to be able to go beyond my comfort zone. She is an amazing trainer and she has shown me the way to fitness and a healthy life. There is no way that I will ever be able to adequately thank Irene or all the members of the team at the Farmington Valley Y. They all exemplify what the YMCA is all about giving people like me a chance to live a healthy life. Bless you and thank you all.